While the Covid-19 pandemic changed the way many people work, it also opened eyes into how employees are treated and the reasons people change jobs. According to a recent Flexjobs survey that was published in Forbes, 1 in 3 Americans are considering quitting their job. The largest driving factor for wanting a change was company culture, with 62% of respondents quitting because of toxic company culture. Company culture is important in every industry, but in construction where there are increased rates of injury, addiction, and turnover, it should be even more important. Unfortunately, this is seldom the case.
At EDA Contractors, we don't just emphasize the importance of culture in the workplace, we live it in everything we do. This starts with our promise to be successful together and extends to each of our values. EDA understands that it is impossible to truly separate work and home life, and your happiness or lack of happiness in either of these environments directly affects the other. According to Internal Communications Coordinator Bret Roberts, we want to "create a psychologically safe environment for all EDA employees." The goal of creating and cultivating this type of environment is to create a workplace where people valued, appreciated, and find a genuine sense of happiness that transcends both work and home life. This type of environment has even been proven to improve performance.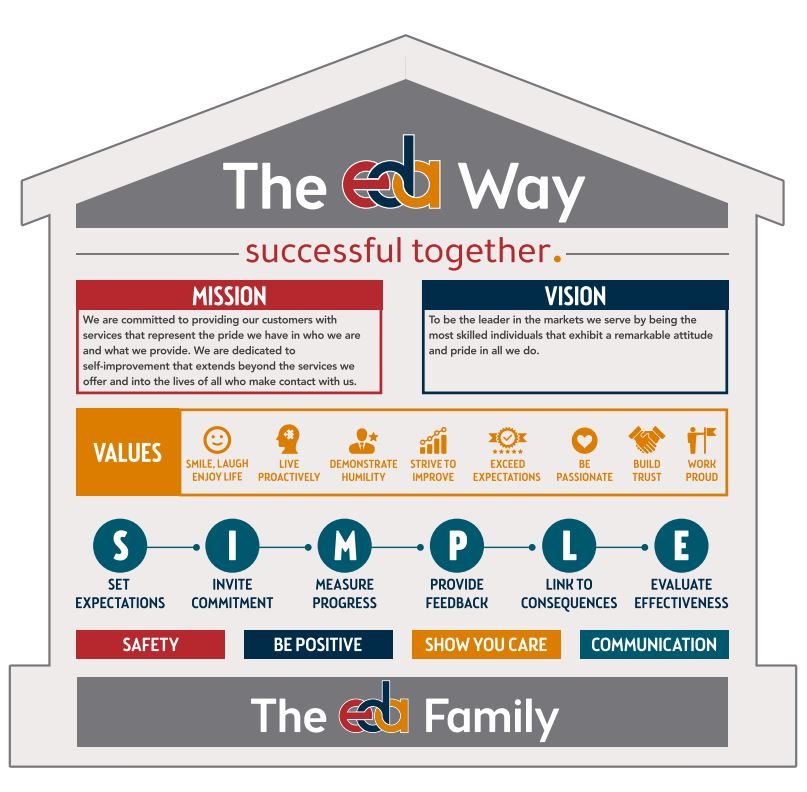 Karissa Czepiga is EDA's full-time Culture Coordinator and oversees several committees that serve as the "boots on the ground" for culture across the company. She explains EDA's culture as "the heartbeat of the organization. Our culture is about embracing an 'employee-first' attitude and commitment to our successful together promise." Members of the EDA Culture Team and EDA Champions Committee are tasked with listening to their colleagues and serving as agents of change throughout the company. Supplementing these two committees, EDA also has a Fun Committee which helps drive culture by hosting fun events throughout the year. Events range from bowling and family picnics, to company fishing trips. These events help employees get to know their colleagues more personally and allows them to unwind from the stresses of their daily work. Both are important drivers in having a positive company culture.
EDA also offers regular leadership trainings that strive to cultivate each of our employees to be leaders in both their work and personal lives. Currently over 90 employees from both the field and office attend year-round leadership training classes to develop their emotional intelligence and life skills. This includes communication, conflict resolution, effective supervising, and customer service that aim to give individuals the tools needed to better lead and teach teams throughout the company.
EDA's Company Values
EDA's values serve as a way for employees to express themselves both at home and at work. We believe that following our values gives everybody the opportunity to achieve success in their career and is key to achieving, living, and working the "EDA Way."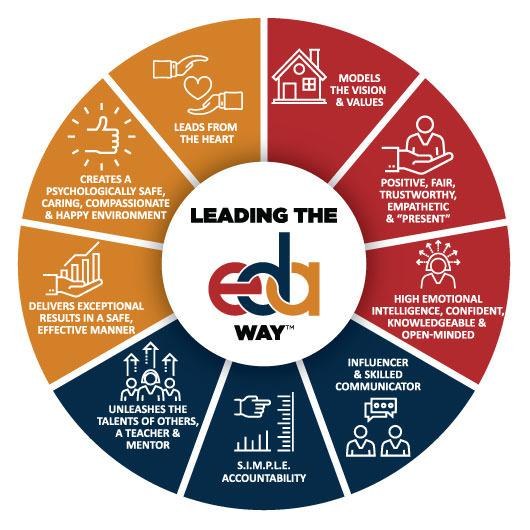 Smile, Laugh, Enjoy Life
Having fun at work is beneficial to morale and company culture. By smiling and enjoying your work, you create a positive, healthy environment for yourself and the people around you. According to Art Barnes, a carpenter at EDA, "The people and atmosphere are great; it has a family feel. EDA takes care of its employees!" This positive atmosphere and family feel, help to improve employee morale and make it more enjoyable for everybody to come to work each day.
"I worked for a couple companies big and small and EDA has an incredible family atmosphere starting from the office and in the field, And the care that the company gives to the workers is the best in the industry!"
-Anthony Mamontov | Carpenter
This environment is rare for a company to care about, especially in the construction industry. At EDA, we believe however, that it is imperative to achieving success both in the office and on our jobsites. Disgruntled employees tend to work carelessly and can be detrimental to our clients. By ensuring happiness, enjoyment, and instilling these values in our employees, we believe our mission of delivering a watertight building to our clients can be more easily achieved.
Live Proactively
We encourage all EDA employees to be proactive in their lives and we have numerous programs that help support this expectation. We want our employees to always think about what they can do to grow and develop within the company, and we encourage everybody to ask questions and be open with one another. One of the ways we encourage our employees to be proactive, is through a shadow program that allows them to spend time in other departments and learn more about other people's roles and responsibilities. This program helps our employees see their potential and areas for growth down the road.
"This is the best company to work for, you're family from the beginning. I enjoy coming to work everyday and it is not a struggle to get up early each morning. This has been a dream job to me and I plan to retire from here."
-Ronni Pajak | Accounting Assistant
Demonstrate Humility
EDA encourages its employees to demonstrate humility in their work because we understand that everybody can make unique contributions to our success. Being humble is one of the best ways for individuals to gain respect from their colleagues and shows their commitment to doing quality work.
"My first EDA Town Hall really opened my eyes to the emphasis on culture. There is no comparison to EDA's culture. While I've spent much of my career working for myself, I don't know of any other construction companies that devote this level of time and/or resources to their workforce, especially the field!
-Dan Staudinger | Carpentry Foreman
One of the ways EDA aims to demonstrate humility is by keeping an open line of communication between all departments and from employees at every level. Our intranet platform, The EDA Journey, is a great example of how everybody at EDA can use their voice to feel heard. Likewise, our semi-annual town halls give an open dialogue to EDA leadership where they aim to be open and honest about employee feedback and questions. EDA's philosophy around creating a safe space, without risk of retaliations, reiterates this value and shows the company's commitment to it.
Strive to Improve
At EDA we challenge our employees to strive to improve in everything that they do. Striving to improve can come in many ways including learning a new skill, listening to advice from a colleague or manager, or asking questions. We believe that improvement is a key pillar to empowering employees to learn, grow, and thrive, which is why we provide the tools to improve employees' skills every day.
"What I appreciate about EDA is the teamwork, it is unlike anywhere else I have worked. You can ask any question to anybody, and they are always willing to help out. You don't get blown off or feel that you are a nuisance. I think this is important because those who like to ask questions to double check things, really need that assurance to thrive."
-Jason Merlo | Project Manager
In addition to providing a culture that encourages improvement, EDA's management and executive teams also go to great lengths to make improvements to the company and how it is managed. One example of this is the employee feedback surveys that are sent out each year. These surveys are meant to get a true grasp on how employees are feeling about their job and the company as a whole and are a regular driver for change within EDA.
"EDA is awesome, because they literally care about their employees and are always open to suggestions."
-Sunny Patel | Assistant Project Manager
Exceed Expectations
EDA strives to create an environment where employees can be successful and exceed expectations. We believe that by creating a workplace where people genuinely know and care for their colleagues, we are giving them a better opportunity to achieve success. Additionally, we understand the importance of being rewarded for exceeding expectations, which is why we have several programs designed to recognize top performers and people who go above and beyond in their daily work.
"This is the first company where I feel like the phrase 'you're just a number' does not apply. EDA has made me, and many others, feel like superstars. The amount of respect I have earned and given across the entire company cannot be beat. I couldn't imagine working for anybody that matches the integrity, desire, and willpower. There's simply no one better."
-Steve Zinnelli |Shop
Be Passionate
When a company has a poor culture, it is easy for employees who are passionate in their work to feel disgruntled and become complacent. Part of our emphasis on culture is to help you feel passionate towards your work and be excited to come to work each day. Jennifer Isopi, a service manager at EDA, notes that she has "never been a part of a company that cares and supports their employees, whether that be in or outside the office." Being in an environment that offers supports and understanding when employees need help, the passion for the job is strong and creates strong results for each project we work on.
"EDA's employees, culture, and leadership make it by far the best company I've worked for in 26 years as a union carpenter and it isn't even close."
-Kyle Kratzer | Carpenter
Build Trust
According to Harvard Business Journal, people who work at high-trust companies report 74% less stress, 50% higher productivity, and 40% less burnout. Successful teams need to trust each other and their leader to be successful.
"No other company in my 16 years of Union construction have treated union employees as an important part of the business. That alone makes EDA different and valuable to myself and my peers!"
-Paul Croneberger | Carpenter
Trusting the people around you and the company to make decisions that are in your best interest is an integral part to overall happiness and generally leads to better employee retention and quality of work. EDA emphasizes emotional intelligence in its leaders so that they can build strong teams. In addition, we offer unique benefits for employees who are in need. One example is the EDA PACT program, which offers support for employees in need of, or recovering from, substance abuse issues. This is just one example of how EDA demonstrates a commitment of trust for its employees.
Work Proud
Franky Lam a roofer at EDA is proud to work at EDA, because "they treat me like family. While I've never worked for any other construction company besides EDA, one thing is for sure: I wouldn't fix something that's not broken." Being proud of where you work is another example of how to improve culture in a company. At EDA, we expect all of our employees to be proud to wear and represent the EDA brand each day.
"EDA is different than other roofing companies because they actually care about people. Here you have the opportunity to move up in the business if you choose and they give you incentives to stay here. From the top-down EDA is by far the best company I have ever worked for. Not only is the work fun but just how EDA operates as a whole. The principles alone are what sets EDA apart from the rest. I love what EDA stands for and I am proud to wear EDA on my sleeve."
-Neil McGinnis | Carpenter
This pride in the company leads to overall happier employees and a commitment to each of our core values. If our employees are proud of where they work, they will be proud of the work they complete, and in return our clients will be happy with the projects that we complete. EDA is proud of each project that we work on and emphasizing this pride in our values helps separate EDA from the competition.
Interested in working for EDA?
You may be in luck! EDA is hiring for a variety of positions and all different skill levels. Check out our job listings and apply today!