EDA Cares was developed as a way for the EDA community to come together and give back to others. The program is championed by EDA staff who get to foster a relationship with charities that are meaningful to them and the local community. Cares was initially founded as part of the EDA Champions Committee, but was formally introduced as its own committee in 2020. Since then, it has had over 60 employees participate in more than 20 events. Charitable affiliations are unique, diverse, and are designed to give everybody a chance to become involved in important initiatives.
Structure of Cares
As the director of Cares, Karissa Czepiga oversees everyone on the committee. In conjunction with the Cares Officers, she ensures that the mission and vision of the committee are met and that members are meeting their requirements.
Cares Officers help direct the Cares Committee and are responsible for things like meeting and event logistics, marketing, budgeting, collecting meeting minutes, and tracking attendance. They also collaborate to send out any Cares-related communications. Cares officers meet weekly to help set the direction of the committee and ensure that Cares is properly representing EDA. In addition, they lead at least two projects annually with a charity of their choice. The structure of Cares is designed to create a bigger purpose for employees and the communities they are interested in giving back to. According to Czepiga, this is done intentionally to create accountability and empower everyone on the committee to "be the bridge that connects the EDA Community and its extended members with the opportunity to give back and serve the community in areas they are passionate about."
While not directly involved in the decision-making process or in the leadership decisions of the committee, Cares Members work directly with the officers to support initiatives. They bring ideas to the committee for consideration and help implement them. Members are required to help prepare and support at least two events each year.
Charities of Choice
This year, EDA Cares has partnered with a range of charities to help make an impact in the community. Charities of Choice are brought to the committee by officers who have an interest in partnership. Once approved, the officer will facilitate the relationship between EDA and the charity of choice and EDA will participate in events and initiatives that support the charity. Czepiga states that, "Empowering committee members to bring their own cause to the table, including spearheading initiatives to bring awareness to and do things for their cause truly makes the experience and connection that much more meaningful to them. It's an opportunity to reinforce their commitment and accountability to the cause and the Cares mission."
Turning Points for Children envisions a thriving community for all by bringing social and health services to vulnerable people. Turning Points understands that poverty is the root cause of their local families' issues and its programs aim to help break the cycle of poverty at a young age. Programs range from improving nutrition to parental education, all the way to foster care and adoption. Their approach is customized to each of their clients' needs and ensures that everyone has a unique experience.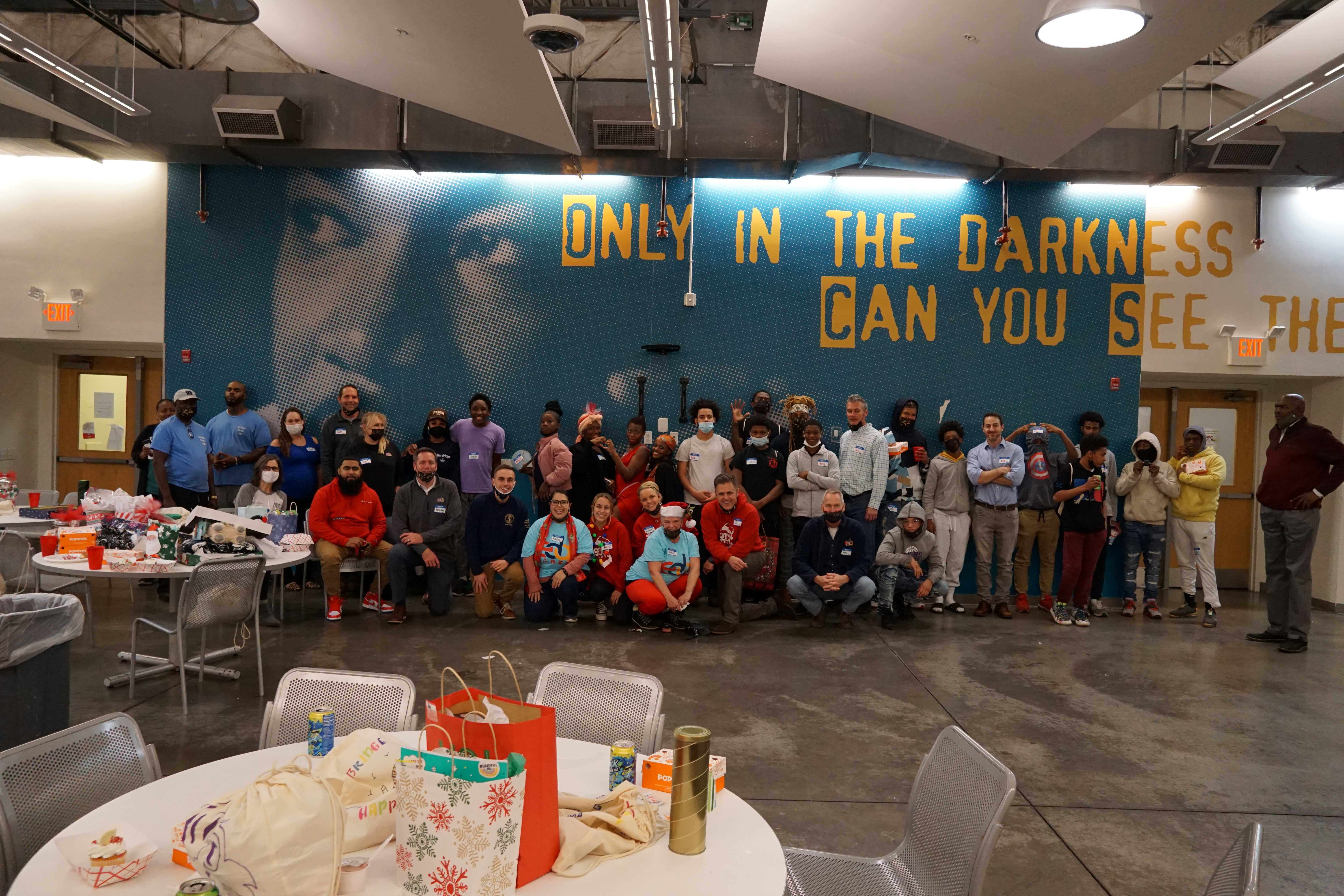 "I chose Turning Points of Philadelphia because we perform a significant amount of our work in Philadelphia. As a for-profit company that earns revenue from Philadelphia, it is important that we try to help communities that are suffering."
-Ed DeAngelis | CEO
This charity highlights EDA's commitment to helping the next generation grow and be successful. CEO, Ed DeAngelis explains that, "Since children are the future, this charity helps the most vulnerable children have a chance to enjoy a quality life." Chronic poverty is a systemic problem in Philadelphia and Turning Points provides services to help alleviate the burden of poverty in the community.
The Janine Hee Memorial Foundation awards two $2,500 annual scholarships to two 8th grade graduates who are committed to attending Paul VI High School in Haddon Township, NJ. Students must complete an application packet that includes a personal essay to show how they embody Janine's character traits, as well as demonstrating community involvement, providing letters or recommendations, and their grade transcripts. This charity was started as a way to honor the memory of EDA Vice President of Operations, Brian Hee's wife, who passed away from colon cancer. Brian reflects saying "Her positivity and strength through the toughest times showed us all how to see the positive in every situation. The love and support that we were shown as a family during this time is something that I will never forget." Janine embodied the EDA Way in everything that she did, and by supporting this charity, EDA is able to help keep her spirit alive.
"This charity is very near to my heart as it is in memory of my loving wife Janine. When we first started this charity, it was a way for me to process the grief of losing her at such an early part of her life. As we continue to move forward, it has and will allow us to keep her memory and spirit constantly with us as we help others in the manner that she would have."
-Brian Hee | VP of Operations
The goal of the foundation is to provide financial aid to those who are in need while honoring the life and legacy that Janine Hee left behind. In addition to the scholarships, this foundation has provided aid to families going through cancer treatments. The foundation has funded things like a new wardrobe for a mother that lost weight after a major surgery, paying rent to a single mother battling terminal cancer, giving gift certificates to a family that has a mother and father dealing with disease, and numerous other contributions. Hee likes to reflect on how "being able to connect the EDA Cares Committee and this foundation allows me to continue the passion we have to help others in various ways. It will hopefully open avenues that our foundation can support other charitable causes along the way."
In collaboration with the City of Elderly Love Rescue, EDA helped setup the "Let's Stay Home Senior Pet Retention Fund." This program is designed to help Philadelphia-area pet owners keep their pets during times of hardship. Since senior pet adoption rates are low, the mission of this fund is to provide financial assistance and help owners care for their senior pets. Where many owners relinquish their senior pets due to unexpected and expensive vet care and emergencies, this fund aims to directly cut down on these surrenders and relieve crowded shelters.
"We share the same beliefs that pet owners shouldn't have to worry about giving up their pet because they don't have the money needed for its care."
-Bob Palumbo | Executive Director of Operational Excellence
Bob Palumbo, EDA's Executive Director of Operational Excellence helped create this charity because he felt that there was a need to help pet owners and senior pets in his community. He highlights how "EDA's moral compass includes giving back to the community, helping others in need, and doing what is 'right;' that is precisely the purpose of this charity." Many senior dog surrenders are not a result of individuals wanting to surrender their dogs, but of necessity because they cannot afford something that these animals need. This can lead to overflow at shelters that can easily be avoided with adequate funding.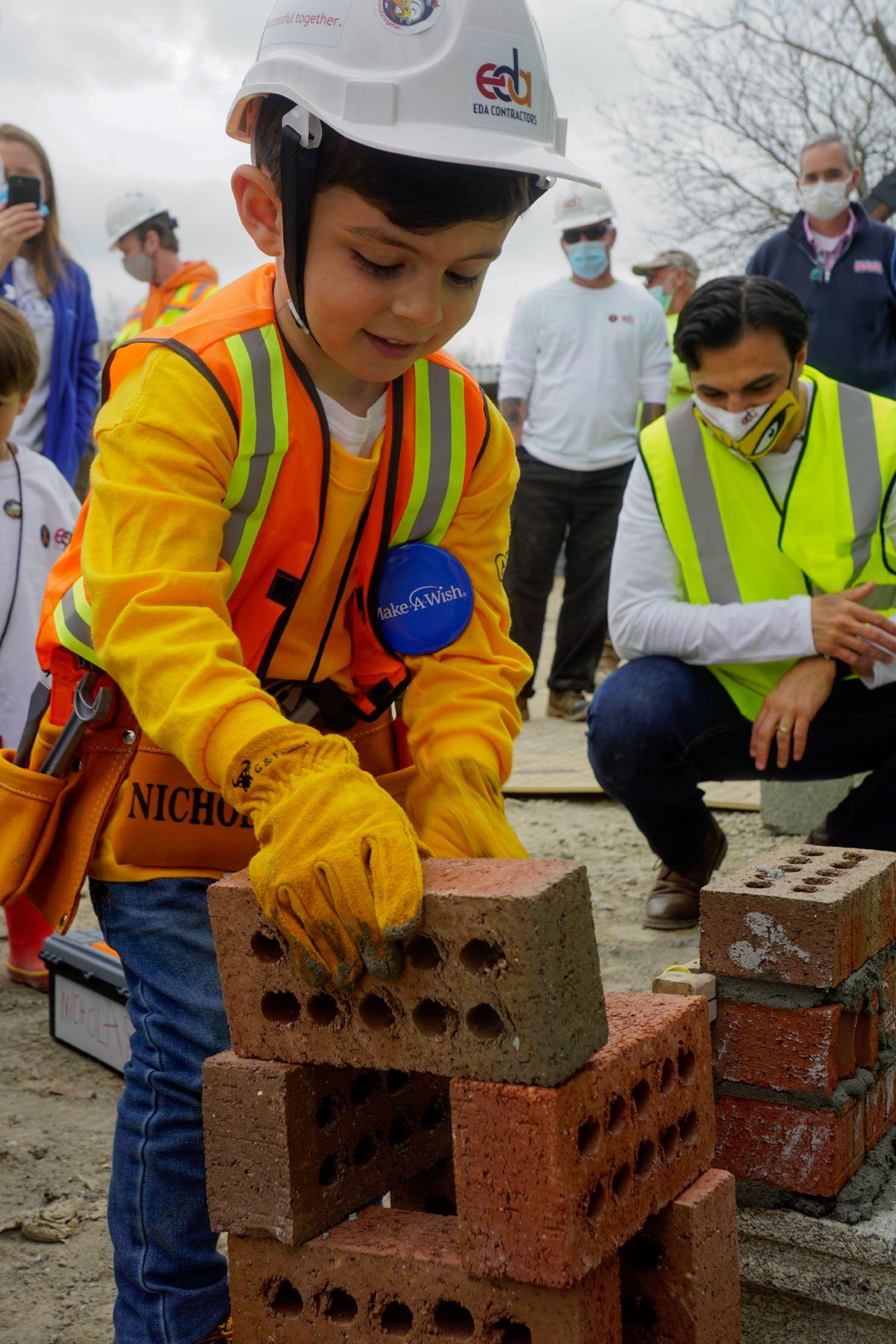 Make-A-Wish's mission is to create life-changing wishes for children with critical illnesses. They see wishes as more than just one nice thing; they are meant to truly make an impact on every person involved in granting the wish. Make-A-Wish, local PA Chapter is focused on providing hope to local sick children. The charity provides families with a once in a lifetime dream to help cope with the fear that is constantly present in their lives.
"We don't get to choose our upbringing or our health, so these charities allow me to be thankful for the luck that was bestowed on me"
-Ed DeAngelis | CEO
This charity was originally chosen by EDA's CEO, Ed DeAngelis, to "help my children appreciate their good fortune." DeAngelis explains that "the job of parents is to help mold their children to be successful and happy, but their most valuable attribute will be empathy. Empathy must be learned through experiences which allow all of us to see the world through another's eyes." As EDA's relationship with Make-A-Wish has grown, the connection has expanded beyond DeAngelis's kids and onto the employees at EDA. He explains that "Make-A-Wish provides us a perspective about our own family frustrations and helps us feel these families' pain and joy when we help complete a wish."
"My life could have been drastically different, and I am thankful for my blessings. My small contribution to these charities helps me to appreciate my good fortune."
-Ed DeAngelis | CEO
In 2021, EDA Contractors hosted a wish day for Nicholas Esposito. Nicholas' Construction Day granted Esposito (4) his wish of being a construction worker. Nicholas was made CEO – Chief Excavating Officer – for the day and with the help of EDA staff, partners, and community members make this special day a success.
The American Foundation for Suicide Prevention (AFSP) chapter in Philadelphia aims to educate and grow awareness for suicide in the greater Philadelphia region. The group is powered by volunteers who care about and have been touched by this issue and bring their knowledge and experience to schools and organizations throughout the area. Their goal is to help reduce the suicide rate by 20%.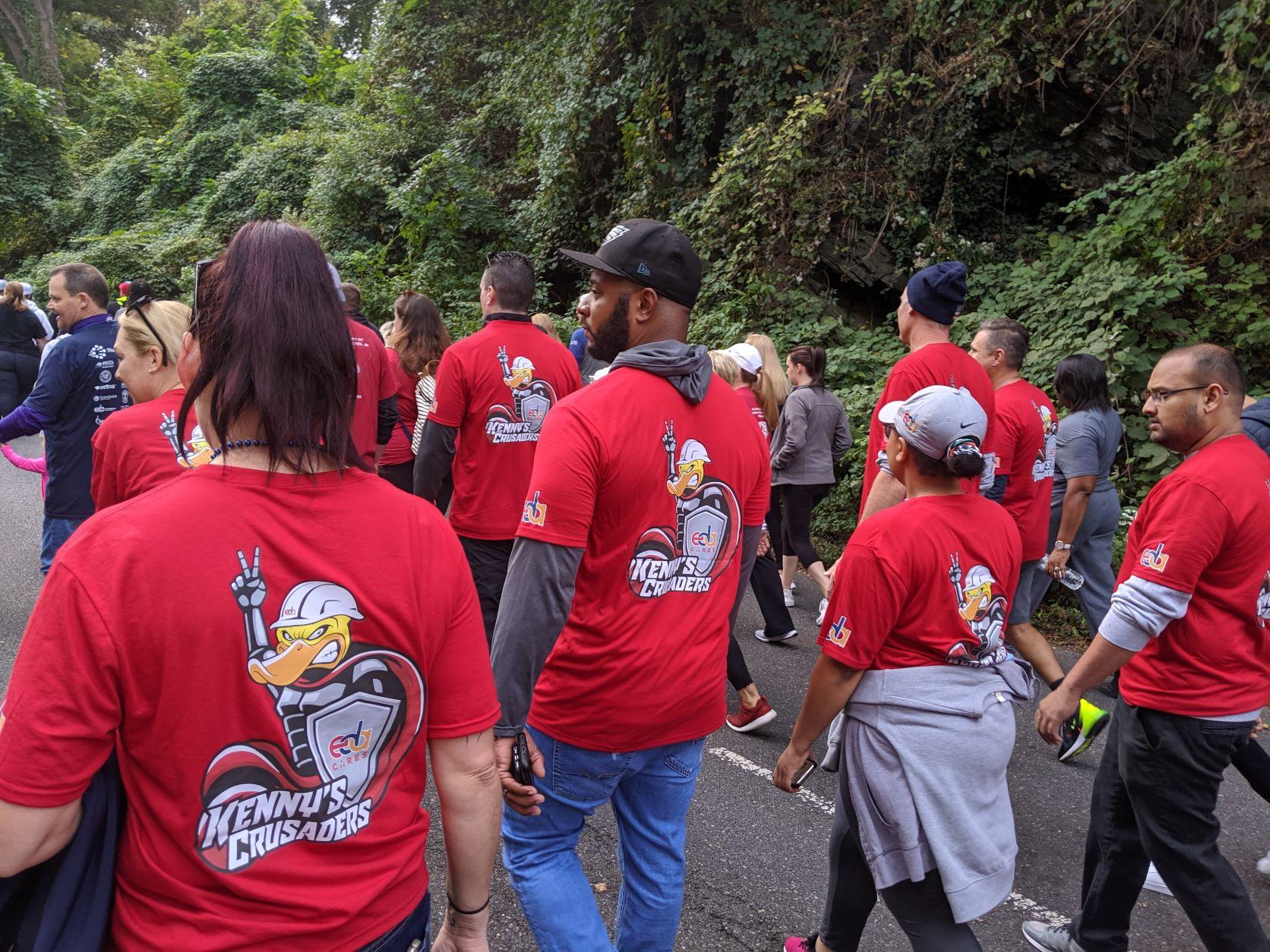 Construction is one of the most effected industries when it comes to suicide and mental health issues. While the issues of suicide and addiction tend to be pushed aside by workers and employers alike, that only compounds matters. EDA has committed to being an agent for change in this industry, with several programs designed to help individuals who are struggling. Unfortunately, despite these efforts, EDA has not escaped the tragedy of suicide. In 2018, EDA Roofing Foreman, Kenny Erdman took his own life. Today, a group of EDA employees entitled "Kenny's Crusaders" honor his memory and support efforts to raise awareness for suicide. Each year, EDA employees participate in the American Foundation for Suicide Prevention (AFSP) walk to raise awareness and honor Kenny's memory.
The mission of We Care Special Sports is to assist families of children and young adults with special needs and afford them the opportunity to participate in recreational sports, programming, and services that promote inclusivity and valued life experiences. They aim to provide recreational activities, social skills support, and summer camp opportunities for eligible families at little to no expense.
"The ability for special needs children and young adults to have access to the same programs and experiences that typically developing people do, regardless of financial ability does more for the neurodiverse person and their family personally and developmentally than anyone could even imagine."
-Karissa Czpeiga | Culture Coordinator
This charity's important mission is integral to giving access to inclusive sports programs and other life experiences. For Karissa Czepiga, EDA's Culture Coordinator, this charity is particularly personal to her because her five-year-old son, Dominic has special needs. She reflects saying, "To have an outlet where he can not only participate in sports in a social setting, but be around other children like him does so much for his self-esteem and self-confidence." Additionally, it creates a place for parents of children with special needs. Czepiga says "for my husband and me to be around other parents of children with special needs creates a support system free of judgment or criticism."
"I want every special needs child, young adult, and their parents to be able to experience something like this on a continual basis and not be restricted by financial burdens."
-Karissa Czpeiga | Culture Coordinator
Anchor House started in 1978 as a group that moved homeless and runaway youth of Trenton off the streets and back with their families. They have since expanded to offer numerous programs and services, including food, emergency housing, and clothing, to over 1,000 youth and families each year. Anchor House provides shelter, school and street outreach, and transitional and supportive housing to youth, ages 12-24 from Mercer County and throughout the state of New Jersey.
"The Anchor House is based out of my hometown, Trenton, NJ. I understand the struggles many of the youth in the area face and continue to face. Learning about the Anchor House and how consistent they are with their support to not only Trenton's youth but providing support across the state of NJ, encouraged me to select the Anchor House as my choice of charity."
-Sade Carmichael | Executive Assistant
This charity's mission closely aligns with EDA's goal to help others and it presents a great opportunity to help change lives and protect and save our youth. Support from volunteers is integral to helping support these families and getting them the resources that they need.

The Wardrobe addresses clothing insecurity by providing clothes to those in need. Having the right outfit could help someone get hired, fit in at school or work, or get settled in a new community after surviving a life changing event. This charity collects all kinds of clothes from casual wear, to prom outfits, to suits.
"Many years ago, I volunteered to work at a charity in North Jersey with a similar mission. While I was sorting through clothing in their storage space, I saw a woman come in looking for help finding an outfit for a job interview. She was a survivor of domestic abuse, having fled her home with not much more than the clothes on her back. She was struggling to get her life back together and didn't have an outfit that would make the right first impression during the job interview. To know that an outfit could be the difference between gaining independence and going back to a dire situation, it was shocking and humbling. To know that The Wardrobe helps men and women in the Philadelphia region with clothing insecurity so they can find jobs, get settled after incarceration, or fit in at school, it's inspiring."
-Jacklyn Isasi | VP Marketing, Communications, Brand Management, and Culture
This charity was chosen by Jacklyn Isasi, EDA's VP of Marketing, Communications, Brand Management, and Culture who says, "The Wardrobe seemed like a good fit for EDA because the majority of our workforce is male. This means that EDA can help make donations for the men's clothing that is much needed. It doesn't require a specific skillset or dedication of time, but we all have spring cleaning to do, and we can take advantage of this connection." There is also potential for EDA to use some of its workforce's skills to help at The Wardrobe's shops by building shelves or helping rehab some of their storage spaces.

The Eagles Autism Foundation seeks to increase research, advocacy, empathy, and unity for people with autism. The program gives people with autism the opportunity to work with the team, join community events, and even offers a sensory room at Lincoln Financial Field. The foundation gives back in many ways, including events and fundraisers and monetary donations. 100% of donations are given back to children and families in different communities, and are aimed at helping children receive proper care, as well as funding research. There is also a grant program that helps expand local services and better care for children who are on the autism spectrum.
"I believe that any child or adult with Autism Spectrum Disorder (ASD) should have access to proper care and facilities. The research and development on ways to improve how people handle ASD is also very important. The Eagles Autism Foundation is doing important work to jumpstart the conversation surrounding these things."
-Isabel Shalayda | Receptionist/Administrative Assistant
Isabel Shalayda, EDA's Receptionist/Administrative Assistant picked this charity because she "has connections in my personal life, and I believe that allowing EDA to work with the Eagles Autism Foundation helps employees who know someone with autism, know they are not alone." This charity's mission is valuable to making sure that children and adults with autism have the proper resources available to them. It also grants them the opportunity to be comfortable at Eagles games.

Want to learn more about Cares?
Be sure to check out the EDA Cares blog on our website, to learn more about specific projects and causes that we support.