Meet Bret Roberts, Internal Communications Coordinator at EDA Contractors.
How do you explain your day-to-day role at EDA?

My responsibilities at EDA include intranet (EDA Journey) administration and management, internal announcements, internal campaigns, creation of internal surveys/forms, multimedia design, social media management, and more.
What do you like most about your position at EDA?
My favorite part about my position at EDA has been the creative freedom. When we launched our new intranet platform with Staffbase earlier this year, I was given complete trust and freedom to design the user experience as I saw fit. After several years of intranet administration with EDA's former platform, I was able to create a user experience that I knew would work for our employees. The main goal was to create something that would truly give them a voice within the company.
How did you get involved in Internal Communications?
If I'm being honest, Internal Communications kind of just fell into my lap when I started at EDA. I was initially brought on as a Graphic Design Intern, and one of my responsibilities was to help with administrative tasks on our company intranet.

As my time with the company progressed, working on our intranet, and helping EDA stay connected became one of my favorite parts of the job. Eventually my role at EDA evolved, allowing me to focus on internal communications full-time.
Why is Internal Communications important?
Internal communications professionals are integral parts of any organization, especially businesses that are people-focused like EDA. Essentially, it is our job to share company culture and important updates so that all our employees can stay informed and continue to execute their roles successfully.
With that said, successful communication is a two-way street. We can't just talk at our employees; we strive to give them a voice as well. It's also our job to help all employees find their voice and give them a platform where they can use it.
What is Internal Communications' role in enhancing EDA's culture?
Part of my job is to help keep our employees aligned and in-sync with EDA's culture. Our culture helps guide our internal communications and vice versa. The Marketing Department and Culture Department work in tandem to ensure that we highlight the 'EDA Way' in everything that we produce.
How can individual employees contribute to internal communications?
Individual employees can contribute to internal communications by simply being involved. Use your voice by posting on the EDA Journey, ask questions and challenge the organization when appropriate, and take the employee opinion surveys that get sent out. All these things help us identify what works and what doesn't and ultimately can be a catalyst for change at EDA.
What are your goals for Internal Communications at EDA?
My main goal is to create a psychologically safe environment for all EDA employees. During my three years with this company, I've noticed that some of our employees are hesitant to "buy-in" to the culture. It is important to understand that we're doing something different and a lot of people in our industry have never experienced anything similar. Many of our employees come from other companies where they were seen as just a number. They may have worked for someone who didn't care about them or their life outside of work or where field employees and office employees never communicated with each other. It's hard to get people to trust that things are different here, but we're trying to break down those thoughts and get everyone to understand that it's not like that at EDA. At EDA, we truly care about the people that keep this company moving. We are successful together.
Right now, we have employees that may doubt that we have the best of intentions for them. We have employees that don't believe that our surveys are anonymous. I see that as a challenge, and hope that we can eventually break that barrier for good.

2022 VOICES Conference
Bret recently attended a two-day internal communications conference held by Staffbase in New York City. The 2022 VOICES Conference was put together to discuss individual experiences uniting, transforming, and inspiring workforces through effective internal communications tactics. For the second part of his interview, we asked Bret to reflect on his experience at the conference.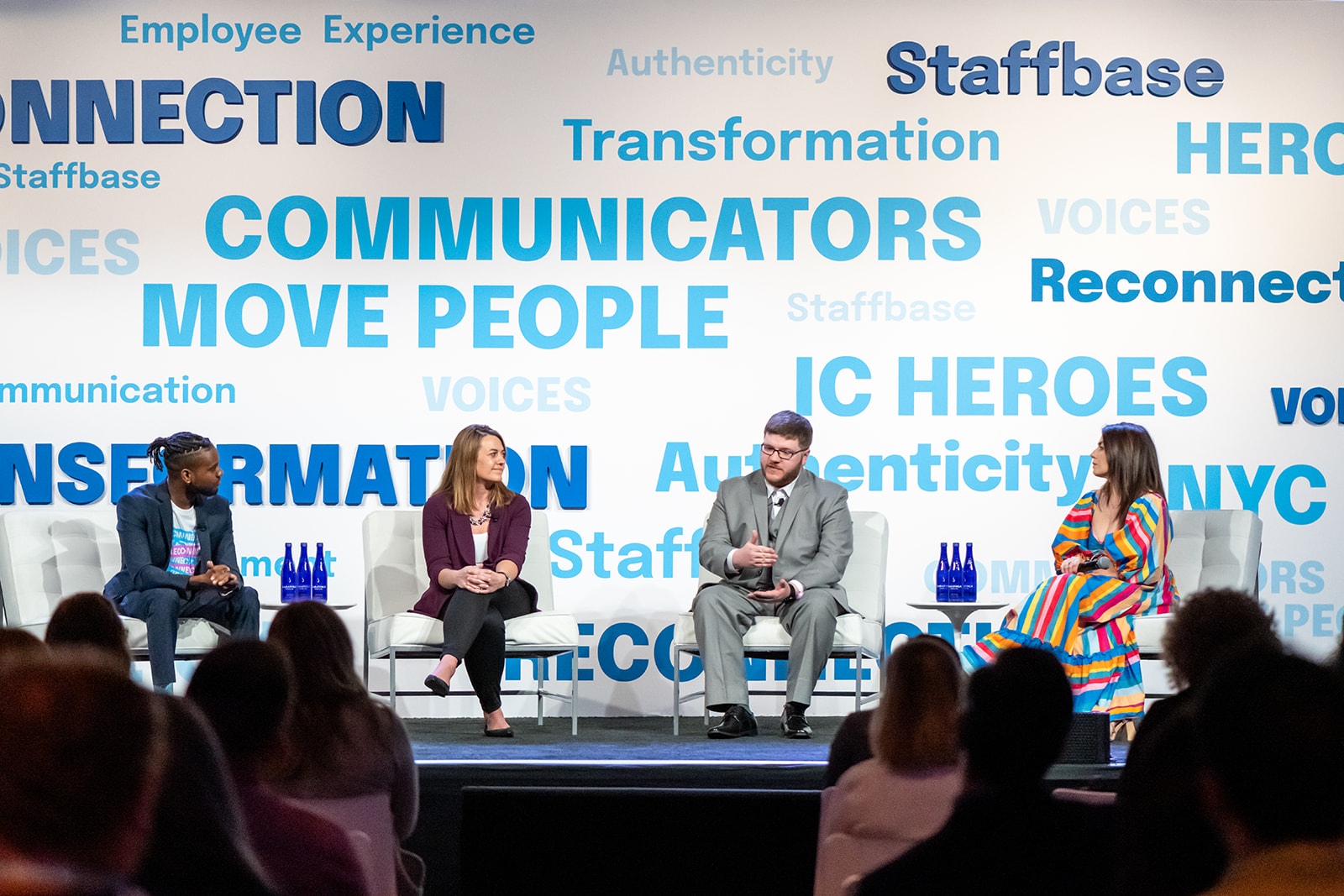 What was your experience like at the conference?
VOICES 22 in New York was altogether one of the coolest experiences I've ever had. I have never been to a conference specifically focused on internal communications, so it was truly a first for me. I didn't know what to expect or just how many people would be in attendance. The amazing turnout was a big eye opener and made me realize that internal communications is valuable across all industries.
Not only did I get to see some incredible guest speakers, but I was also able to join Senior Director, Global Internal Communications at Walgreens Boots Alliance, Lindsay Thiele and Vice President, Internal Communications at CNN, Adrienne Hoyt in a panel called Employee Engagement in Times of Change. It was an honor to have been able to represent EDA among panelists of their caliber.
What were some of the topics that you discussed?
The panel was about employee engagement and altering communication strategies during times of change. The COVID-19 pandemic forced us all to do things a little differently, so the last two years specifically played a crucial role in this discussion.
I opened the panel with an explanation as to why EDA adopted SMS technology during the pandemic. Our work was deemed essential, so our field crews kept working and the office continued to support them. We had important safety information and policies that needed to be distributed, but our intranet website was not mobile friendly. Approximately 75% of our employees used a mobile phone as their main device, so they weren't getting our updates. We found that SMS text messaging could be a great temporary solution, so we quickly rolled it out company wide. Ultimately, it went on to be the preferred method of communication for our field employees.
How did internal communications differ between EDA and your co-panelists' companies?
I found that the internal communication at EDA isn't much different from the internal communication at CNN and Walgreens Boots Alliance. We were all impacted by the same problem for the last two years. Everyone had a hard time measuring engagement during the pandemic and we all believe that our employees should participate in personal identity celebrations. Additionally, the panel agreed that listening to our employees offers more value than talking at them. Despite being in such different industries, the solutions and philosophies that we discussed were all very similar.
How did people react to hearing about EDA's emphasis on culture, emotional intelligence, and our values?
EDA is unlike anyone in our industry when it comes to our culture, emphasis on emotional intelligence, and values. I knew that when I got on stage at VOICES 22, I needed to explain quickly and efficiently what makes EDA different than our competitors. There are so many things that we do differently, but what would be the best way to describe that to my fellow panelists and attendees?
I settled on "EDA is known as the construction company that teaches their employees how to breathe," referencing EDA's breathing exercises and emotional intelligence training. That statement really set the tone and helped everyone understand what sets us apart from our competitors.
After the panel, I had several representatives from various industries approach me and ask for more information about EDA's culture. They were interested in adopting similar strategies for their companies. Those interactions were probably my favorite part of the whole event because I was able to share the EDA Way with other organizations.
Is there anything that you learned at the conference that you are looking to implement at EDA?
One of my favorite speakers at VOICES 22 was former Global Head of Diversity, Equity & Inclusion at Google, Wema Hoover. Wema highlighted how internal communicators can make sure that employees feel valued and respected with inclusive communication:
Inclusive communication is all about creating a psychologically safe workplace where everyone can feel like they belong. It is essential in our workplaces to create messages where people are seen, heard, and valued. — Wema Hoover, former Global Head of Diversity, Equity & Inclusion at Google
Earlier in the interview, I mentioned that my goal is to create a psychologically safe environment for all EDA employees. One of the ways to move forward with that goal is to continue to enable everyone to contribute diverse perspectives, and to create a feeling of belonging through inclusive communication.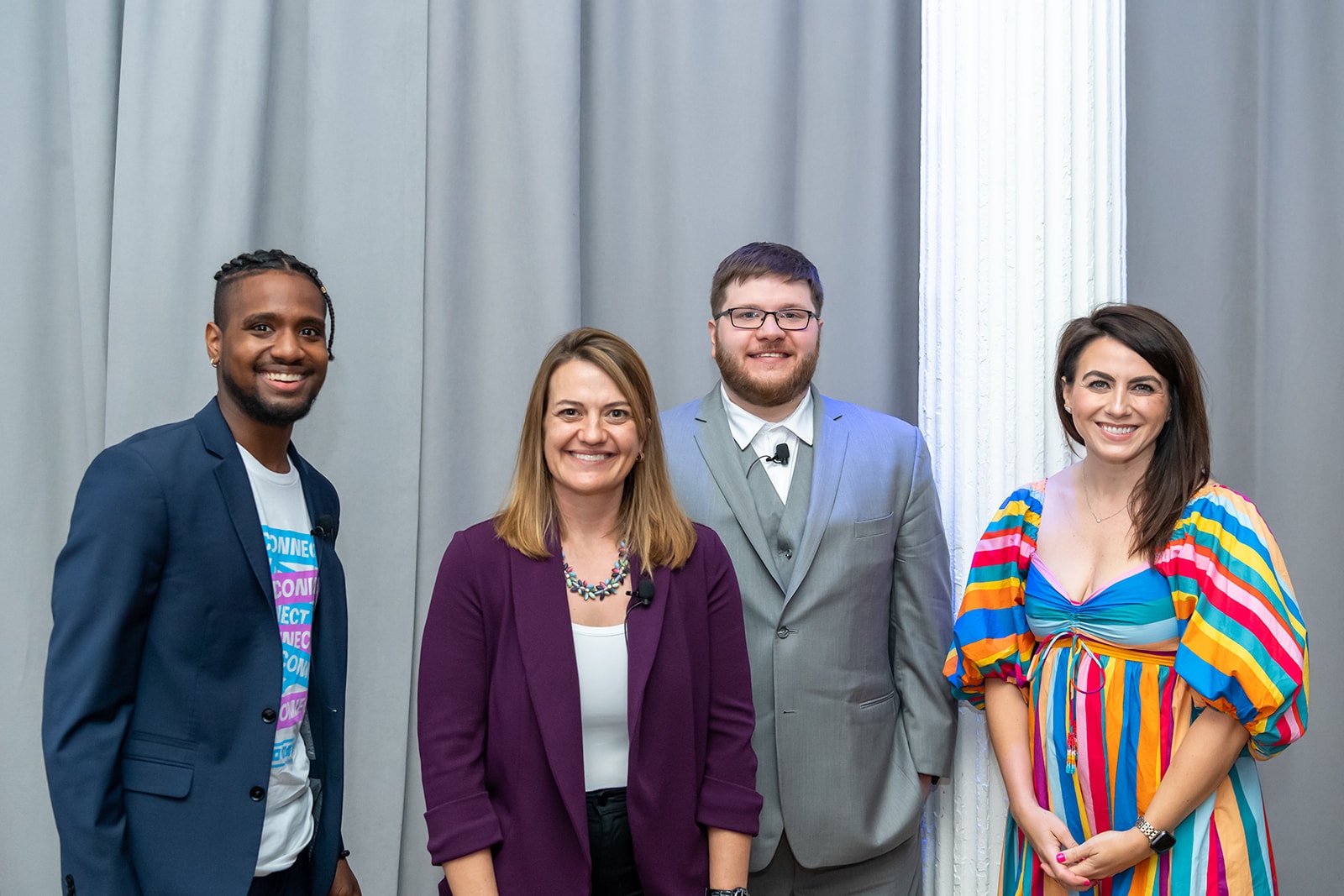 Click here to watch the full Employee Engagement in Times of Change panel from VOICES 22 in New York City