About BBCI
In 2018, Ed DeAngelis purchased Bregenzer Brothers, a historical restoration slate and copper roofing company which was founded in 1919 and specialized in old world craftsmanship and high-quality building work.
Known today as Bregenzer Brothers Company, Inc (BBCI), they remain the most respected leaders in the installation and restoration of historical slate roofs, custom copper gutters, leader heads, and other integral components in the region.
Their work can be seen in some of New Jersey's most beautiful and historic structures, including buildings on prestigious campuses like Princeton University and the Lawrenceville School, as well as other facilities, churches, and stately private residences throughout the state. Their combination of knowledge of all aspects of slate and copper roof engineering, sensitivity to individualized historic roof attributes, and experience hand-crafting custom replacement roof and building details enables them to evaluate historic roof structures and propose the necessary specifications to beautifully restore them to "as new" condition using carefully matched materials and original techniques.
From their facility in Ewing, equipped with a full complement of slate and copper cutting and shaping equipment - including a computerized metal break and custom-designed cutters, BBCI can apply their finely-honed craftsmanship and technical expertise to roofs of any size and level of difficulty.
BBCI is a preferred partner of EDA Contractors.

Client List
Duke Farms Foundation, Hillsborough NJ
First Church of Christ Science, Princeton NJ
Flemington Presbyterian Church, Flemington NJ
Institute for Advanced Study, Princeton NJ
Lawrenceville School, Lawrenceville NJ
Morrisville Library, Morrisville PA
Morven Society, Princeton NJ
Nassau Christian Center, Princeton NJ
Nassau Presbyterian Church, Princeton NJ
Pennington School, Pennington NJ
Philadelphia Contributionship, Philadelphia PA
Princeton Theological Seminary, Princeton NJ
Princeton University Press, Princeton NJ
Rutgers University, New Brunswick NJ
St. Paul's Church, Princeton NJ
Swarthmore University, Swarthmore PA
Tenacre Foundation, Princeton NJ
University of Pennsylvania, Philadelphia PA
Environmentally Conscious
Copper and slate are two of the most environmentally friendly roofing materials you can choose, because of their longevity and durability, and the fact that they are benign and chemical free. BBCI is known not only as a leader in installing environmentally sound roofs, but also in using a host of sustainable and green practices which benefit the environment and the community. BBCI has committed to obtaining almost all the slate and copper for its projects from manufacturers within 500 miles of the project site, reducing the environmental cost of transporting these heavy materials.
Old slate removed from a roof is recycled and reused appropriately on jobs if it is in good condition. All slate waste is recycled at a recycling center where it is crushed for use by landscape contractors.
The standard copper used by BBCI comes from a supplier which certifies that its product contains 90–95% recycled copper. BBCI also uses Freedom Gray copper which is standard copper coated with a tin/zinc alloy, and which contains upwards of 84% recycled material. Old copper removed from a job is recycled, including all scraps from jobs.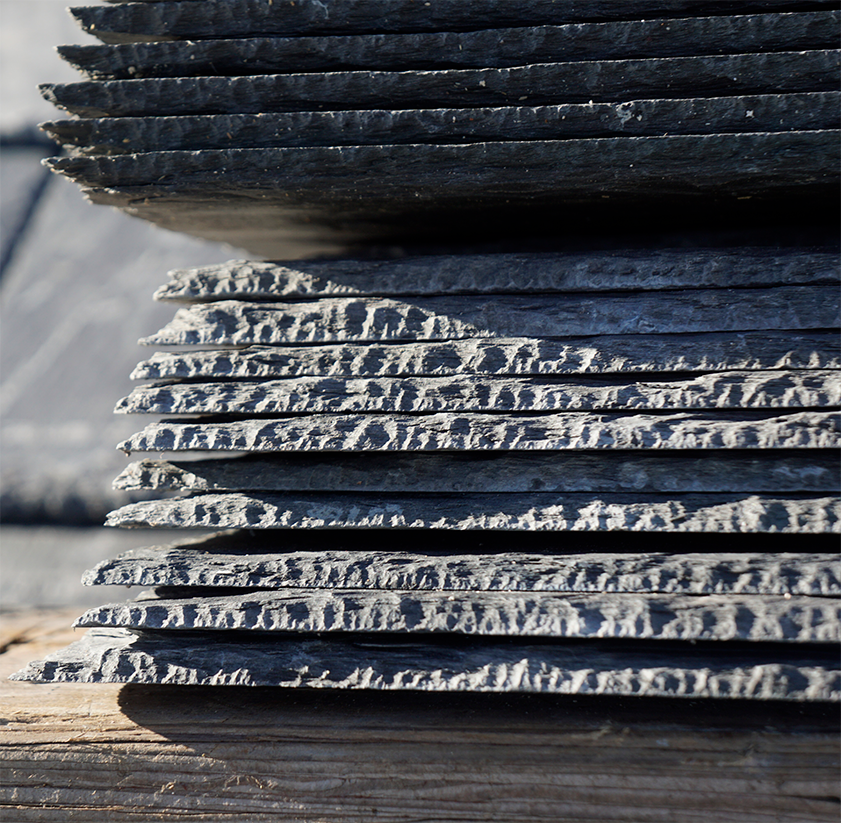 *An EDA Company is a preferred vendor, but a separate company than EDA Contractors, Inc.